Batman 1 - The Court of Owls
TPB softcover (souple) - Issues V2 - DC Comics
Following his ground-breaking, critically acclaimed run on Detective Comics, writer Scott Snyder (American Vampire) alongside artist Greg Capullo (Spawn) begins a new era of The Dark Knight as with the relaunch of Batman with this critically acclaimed, New York Times #1 best-selling graphic novel!

After a series of brutal murders rocks Gotham City, Batman begins to realize that perhaps these crimes go far deeper than appearances suggest. As the Caped Crusader begins to unravel this deadly mystery, he discovers a conspiracy going back to his youth and beyond to the origins of the city he's sworn to protect. Could the Court of Owls, once thought to be nothing more than an urban legend, be behind the crime and corruption? Or is Bruce Wayne losing his grip on sanity and falling prey to the pressures of his war on crime?

Now, this seminal Batman graphic novel is paired with a replica mask worn by the villainous Court of Owls, a must-have for any true fan of Scott Snyder's groundbreaking work.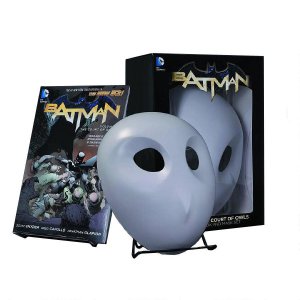 Boutique en ligne
0,00€
Boutique en ligne
29,00€
Variantes (1)
Les autres tomes (10)
Issues VO contenues
Critiques