Thor 600 - Cover #1
Issues V1 - Suite (2009 à 2011)
- "Victory" : Loki while walking in a park, revives Bor from his banishment in the snow. Bor, not well accustomed to the new "machinery", then in an unfamiliar place starts tearing apart New York city.

In a hospital, Dr. Blake is fixing up a patient and receives a call from Dr. Foster. Jane calls to notify him that "one of his--Thor's--kind" is running amok in New York City and requests Thor's help.

- "To Asgard! Forever!" : Thor is tired of the endless fighting, and goes to Earth. There he operates on a small boy who never gave up during his operation.

- "The Mini-Marvels Present... Welcome Back Thor" : A humorous look at Thor's return from Mjolnir falling to Oklahoma, to Thor being forced out of Asgard.

- "Tales of Asgard: Balder The Brave" : This flashback tale of the early days of Asgard focus on Balder the Brave. In this story he is brought to the court of Odin to answer to the fact that during a recent battle against the Storm Giants, Balder deserted the battle.

- "Tales From Asgard: Balder Must Die" : Jealous of Balder being in favor of Odin next to Thor, Loki decides that he will attempt to kill Balder.

- "Tales of Asgard: The Coming of Loki!" : Odin and his army battle the warriors of Jotunheim.

- "Tales of Asgard: The Boyhood of Loki!" : A ten-year old Thor watches a tournament with Loki when Thor predicts the winner. This incenses Loki as Thor is always right. Loki purposely wagers on the poorer fighter and then casts a spell he learned from the Norn witch women to make the more skillful combatant's quarterstaff shatter when Loki's behind Thor's back.

- "Tales of Asgard - A Viper In Our Midst!" : Thor was leading a band of Asgardian warriors, who were riding out to stop Ghan, "the most deadly of Storm Giants", on his way to attack Asgard.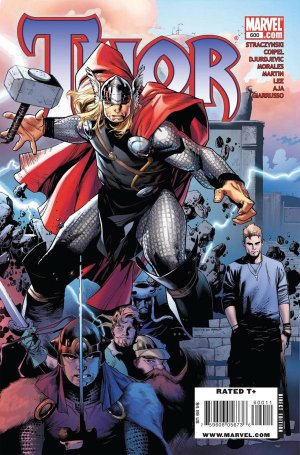 Variantes (3)
Les autres tomes (23)
Présent dans :
Critiques